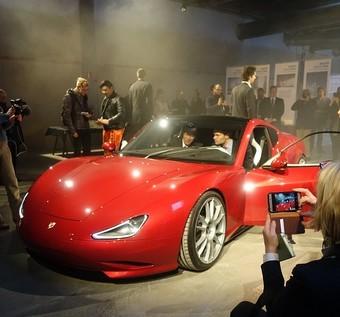 The results of the co-operation between Metropolia UAS and Beijing Asia Stars Electronic Technology Corporation AET were announced Friday 29th September 2017 in Helsinki as the amazingly-looking new electric supercar, Angelica, was revealed together with the announcement of the electric vehicle technology R&D center, Eurosina.
The enterprise highlights the current clean tech collaboration between China and Finland and is especially interesting due to China's announcement of banning fossil fuel vehicles from the market and focusing in electric transportation.
Co-operation between Metropolia and AET in the electric automotive technology development began in the fall of 2014, when the parties signed a strategic co-operation agreement on the implementation of an electric vehicle.
Several honorable guests and speakers were present at announcement ceremony, including Chinese Embassy Officer Sun Liwei, Director of AET Lin Shufeng, Minister of Foreign Trade and Development Kai Mykkänen, Metropolia's President and CEO Riitta Konkola as well as Project Leader Pekka Hautala, and Project Manager Ville Eskelinen.
Riitta Konkola, who opened the ceremony, said the project represents a fruitful cleantech cooperation between Finland and China.
-With important projects like these, we look to the future. As we all know, electric vehicles play an important role in transitioning to a more sustainable environment. So the results of this project are also good examples of significant clean technology innovations and the courage, persistence, cooperation and creativity that are needed on our path to a more sustainable future, Konkola rejoiced.
Finnish electric vehicle know-how has global potential
Metropolia's car projects have during recent years received a lot of recognition also from abroad. Excellent references are e.g. E-RA Electric Raceabout and Biofore ConceptCar. The co-operation with AET acts as a natural continuum for Metropolia's successful automotive projects.
Angelica, which has been developed based on the verified platform from E-RA, will continue to be the success story of Metropolia in electric vehicle development.
-For the past year, a number of Metropolia's automotive alumni and qualified engineers have worked for the project. I would like to thank the whole team for a great deal of work and an attentive attitude. Eurosina R&D Center will continue to work as a systems integrator for automotive technology, bringing Finnish know-how to the world map, says Project Manager Ville Eskelinen.
Pekka Hautala, Project Leader and Head of the Automotive and Mechanical Engineering unit, believes in Finland and Metropolia's global potential.
-In China, electric traffic is growing very rapidly. There is a huge, legislative pressure on electric cars in the country. New public transport is all electric. The sharing economy and collaborative consumption is a current trend also in transportation. Local education cannot produce all the necessary skills and enough experts for the field, so Finland and Metropolia have a tremendous opportunity to share Finnish expertise e.g. to China, describes Hautala.
-I am very proud of Metropolia's and AET's expert teams. We now have a successful example of Finnish technology expertise and China's willingness to invest in it. Angelica's technology will support China's growing demand for electric cars and their production. We will continue our co-operation by investing in the Eurosina R&D Center and making it one of the most valued technical center in Europe. I believe that our cooperation will continue to be a success and our new projects will contribute to environmental protection and well-being, says Lin Shufeng, Director of AET.

Technical information about the Angelica electric car:
• Engine power 436 kW (593 hp)
• Battery voltage 410-570 V
• Battery capacity 55.4 kWh
• Acceleration 0-100 km / h ~ 6 seconds
• Acceleration 100-200 km / h ~ 8 seconds
• Peak speed> 282 km / h
For more inofrmation please contact
Project Leader and Head of the Automotive and Mechanical Engineering unit
Mr Pekka Hautala
p. +358 50 048 3786
firstname.lastname@metropolia.fi
Project Manager
Mr Ville Eskelinen
p. +358 40 548 5341
firstname.lastname@metropolia.fi