Events
Blockchain-based Circular Economy Solutions
26.10.2022 - 26.10.2022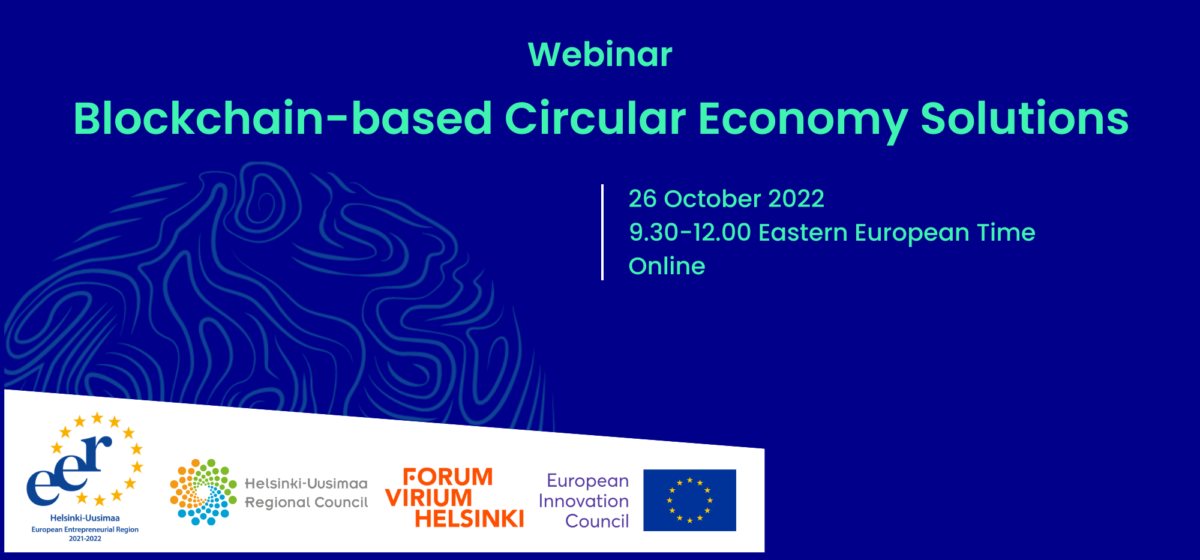 Solutions to use blockchain for circular economy exist already. How?
Hear concrete examples from experts, and learn about real potential use cases from three companies. How to improve transparency and traceability of material lifecycles throughout the value chain? One potential solution could be digital product passports.
Programme (Eastern European Time)
9.30 Welcome address and introduction to the Helsinki-Uusimaa Region Climate, Innovation, and Circular Economy Strategy, Pia Tynys, Chief Advisor, Climate Change, Helsinki-Uusimaa Regional Council
Bringing together innovators and procurers through the EIC Innovation Procurement programme, Vasileios Tsanidis, Project Adviser, Innovation Procurement Partnership Programme, European Innovation Council Business Acceleration Services
How to use Blockchains for Climate and Circular challenges, Markus Lehtonen, CEO, Helsinki Blockchain Center
Carbon Neutral Helsinki — how are we going to do that? Pekka Niskasaari, Project Development Manager, Forum Virium
10.30 EIC Greenhouse Gas programme innovation partnership with Forum Virium, Pedro Miranda, Innovation Consultant, EurA AG
Participating company pitches including potential use cases:
Circularise, Laura Corredor González, Project Manager. Circularise is a platform that provides end-to-end traceability and secure data exchange for industrial supply chains.
Minespider, Volker Krümpel, Co-Founder. Minespider provides a platform, tools and services to collect, share and assess information along supply chains and to leverage sustainability gains.
11.30 Q&A and summary
For more information, please contact Simo Karetie at simo.karetie@uudenmaanliitto.fi
Return to listing