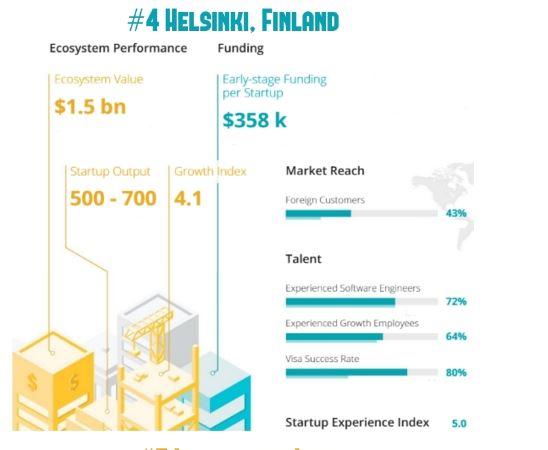 Helsinki is a very cohesive startup ecosystem.  Because of its small community, Helsinki has the ability, as well as the momentum, to develop a position of influence. This place can produce the connective tissue that is needed to build and grow a robust community.  Helsinki ranks particularly well in the Talent and Market Reach Index, according to the 2017 Global Startup Ecosystem Report, published in July.
Helsinki startups immediately Go Global targeting large innovation markets at a higher rate than nearly any other ecosystem. 66% of them begin by targeting the U.S. or U.K. market — trailing only Estonia and Tel Aviv. Helsinki also report a high Foreign Customer rate at 43% (global average 23%).
Europe outperforms Silicon Valley in some startup development
Overall, Europe catches up the Silicon Valley in startup development. According to the 2017 Report, Europe outperforms the United States in some indicators. European angel market showed a moderate increase – 8.3% since 2013. European investors invest in technical projects in different areas like production, Biotech and science of life.
We publish here for you an infograph with Helsinki startup ecosystem to highlight the data. When ranking the following indicators were taken: early-stage funding per startup, market reach, talent, an attraction for foreign startups and many others.
The other TOP 5 startup ecosystems along with Helsinki are Barcelona, Estonia, Frankfurt and Jerusalem.
The article and infograph has been published by Innmind. Information about ecosystems was taken from the 2017 Global Startup Ecosystem Report, created by Startup Genome.
You can read the full report here: http://innmind.com/articles/733