Cases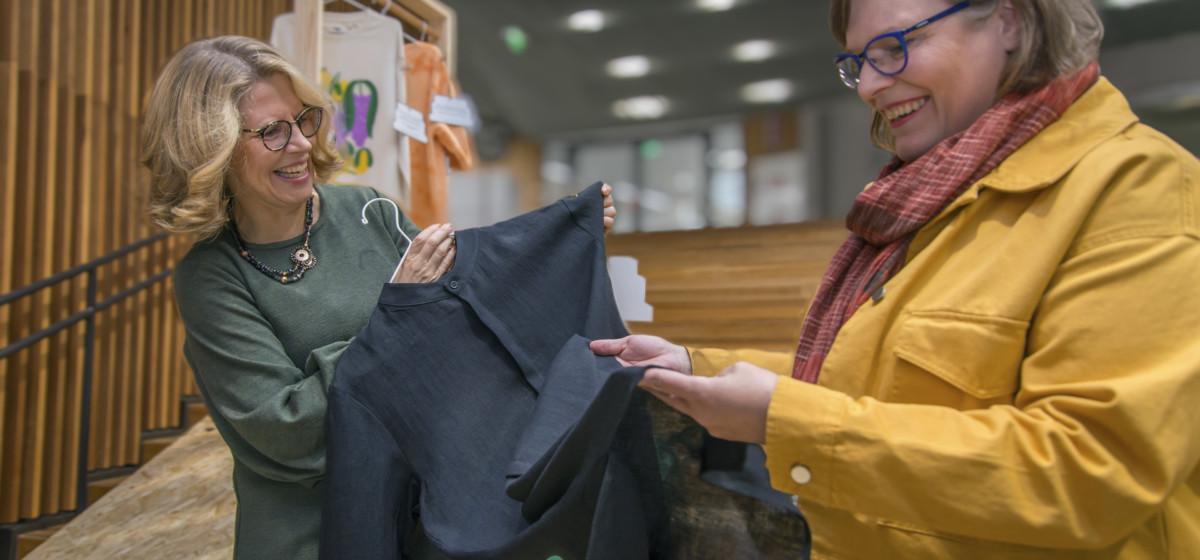 Climate neutrality
Alternatives for fast fashion by front-row player Finland
There is no doubt about it – Finland has all the ability and technology needed to be a trendsetter in the new and ecological textile industry. And Finland is closer to this aim than we might even imagine.
This is a message delivered by Ms Kirsi Niinimäki and Ms Marja-Liisa Niinikoski, and they certainly know what they are talking about. Ms Niinimäki is the Associate Professor in design at Aalto university and Niinikoski the Managing Director at the Finnish Textile & Fashion organization.

But how do they justify their message?
To start with, Finland has proven it has know-how in world-class design and digitalization, and the Finnish industry is both very interested and open-minded in finding new solutions.
In addition to traditional textile fashion, well-known companies like Marimekko, and large companies like Metsä Group (wood industry) and Fortum (energy industry) are involved in finding new textile innovations.
One example of an ambitious goal is a roadmap made by VTT, one of Europe's leading research institutions, in cooperation with the Finnish Textile & Fashion. This roadmap outlines the future of the textile industry in Finland, especially the production in line with the ongoing European development and the forthcoming textile strategy of the EU.
The main goal is to sharpen Finland's vision on the future of the industry, as well as its business and investment opportunities.
According to the VTT, Finland has a great opportunity to be a front-row player.
Alternatives for fast fashion
Ms Niinimäki from Aalto University offers us some background information. She has been studying the consumption of fast fashion, like the mass production of cheap and poor-quality clothing. She wants to find out how the consumption is monitored by the market.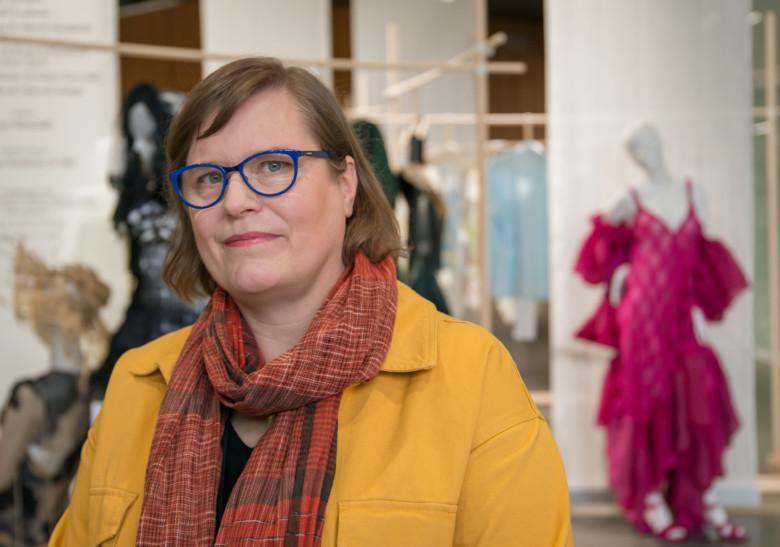 – It has not been easy to find alternative clothing. You often hear how the consumers can vote with their wallets and choose something else. At the same time the market leads us strongly as what to buy, and the direction has been towards fast fashion.
Ms Niinimäki reminds us that fast fashion is in fact a quite new phenomenon. It started in the late 1990's, when clothing quickly became so cheap that there was no longer any good reason to mend clothes – as an example.
It became a habit to throw away clothes that had been used only a few times. You could easily find and buy new cheap ones. Textile waste became a problem, a problem that is only growing.
Demanding change
Recently we have begun to see a wide demand for a change. Consumers want and require stricter requirements for the products and companies manufacturing them.
Also, the politicians have something to say – as has the EU. The textile industry has been identified as a priority sector for the EU moving towards sustainability in its European Green Deal and the New Industrial Strategy for Europe.
The main reason is the textile industry´s high use of resources and consequently, its high impact on the environment.
In 2015 the EU Commission announced its Circular Economy Action Plan. It includes, among others, requirements to ensure that textile products are fit for circularity, ensuring the uptake of secondary raw materials, tackling the presence of hazardous chemicals, empowering businesses and consumers to choose sustainable textiles, and ensuring an easy access to reuse and repair.
It calls for member states to set up a separate collection of waste textiles by 2025. Finland has a more ambitious goal, aiming at 2023.
Biomaterials – the new trend
Whether you talk about new ethically produced textile materials, the circular economy in the textile industry or the recycling of textiles, all of these are taking giant steps forward in Finland right now.
According to Ms Niinimäki, new textile materials must be designed for the far future, also including the aspects of circular economy and recycling.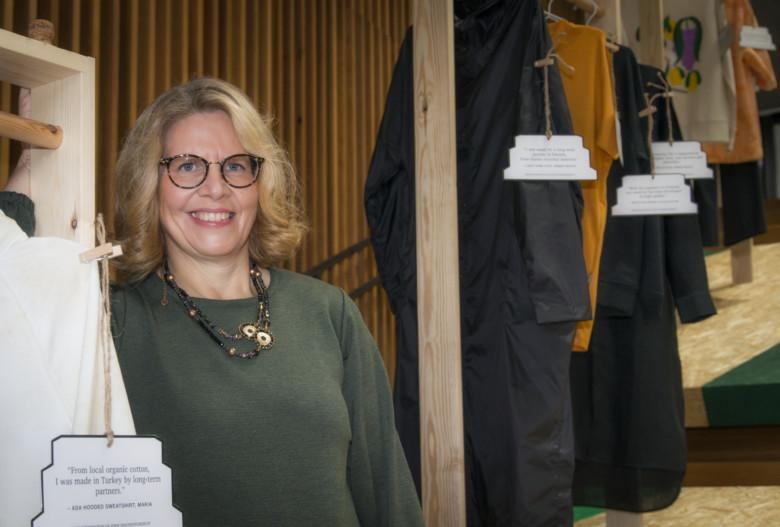 Textiles that are used today are often quite tricky to recycle, the widely used spandex being one of the big challenges.
The new trend pushes us into using biomaterials.
– A lot of work goes into creating new biomaterials that are both long lasting and pleasant to wear. At the same time, we need to find out how this material can be recycled 30 times or even more.
Finland is a forerunner in this field, too.
– We are simply at the center of development. Researchers and the industry are planning new innovations together, Ms Niinimäki states.
She mentions Ioncell-F as an example.
Ioncell-F is a technology turning used textiles, pulp or even old newspapers into new textile fibers sustainably, without any harmful chemicals. This process converts cellulose into fibers, which then can be made into long-lasting fabrics.
It is an almost closed loop, which is great news. And these facts are additional great news: the water use, for example, is less than 500 liter per kilogram of fiber, whereas the corresponding figure for cotton exceeds 10,000.
The technology was developed at Aalto University, in collaboration with the University of Helsinki, and this development work has taken nearly ten years.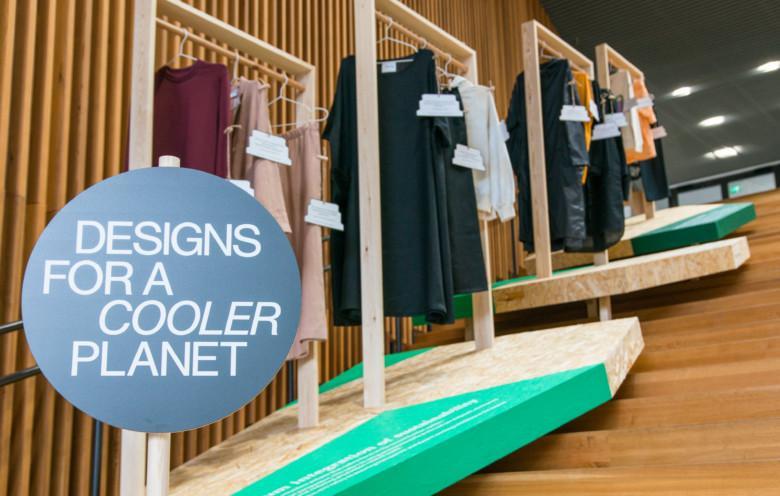 We can find several Finnish companies already taking advantage of this new technology. One of them is the Espoo-based Infinited Fiber (Case article can be read here). The company can use a huge variety of raw materials, like paper, carboard or textile waste.
New recycling solutions
Ms Niinikoski of the Finnish Textile & Fashion organization says the Finns are now leading the way in the circular economy of the textile industry. In the past few years, Finland has seen a rapid development in practical solutions.
Circular economy is more than just recycling. It aims to keep textile materials and their value in circulation for as long as possible, and with a minimal environmental impact.
The circular way of production is a combination of both something old and something new. It also combines consumers, the retail industry, logistics, rental and repair services, the refinement of waste and the recycling of materials.
In Finland, companies have also invested in refinement plants for recycling end-of-life textiles.
The Helsinki-based Rester is a leading global forerunner offering textile recycling solutions and enabling the recovery of business textiles into a new textile fibre and quality raw material.
LSJH, the municipal waste management company of Southwest Finland, is developing a nationwide operating model for post-consumer textile waste streams. This is done in cooperation with other municipal waste companies.
New business opportunities
We have a lot of new business opportunities for SMEs and large businesses – right now and in the nearest future, as stated by these two experts.
Currently, there are some small companies co-operating with researchers in order to find new innovations.
Ms Niinikoski hopes to see a spinning mill in Finland as soon as possible.
– It would offer us the one part of the whole value chain that is still needed.
– Besides that, we would need a more ecological and data-driven fabric manufacturing.
Will the consumers find the new textiles? Are they willing to pay more?
Ms Niinimäki admits that the use of new technologies is naturally raising the costs. One of her hopes is to experience the EU being able to help the ecological and sustainable textile industry to grow.
Hopefully we can see a simultaneous development of consumers more carefully considering what kind of clothing they will really buy and use.
Image credit: Ilkka Ranta-aho
Return to listing