Cases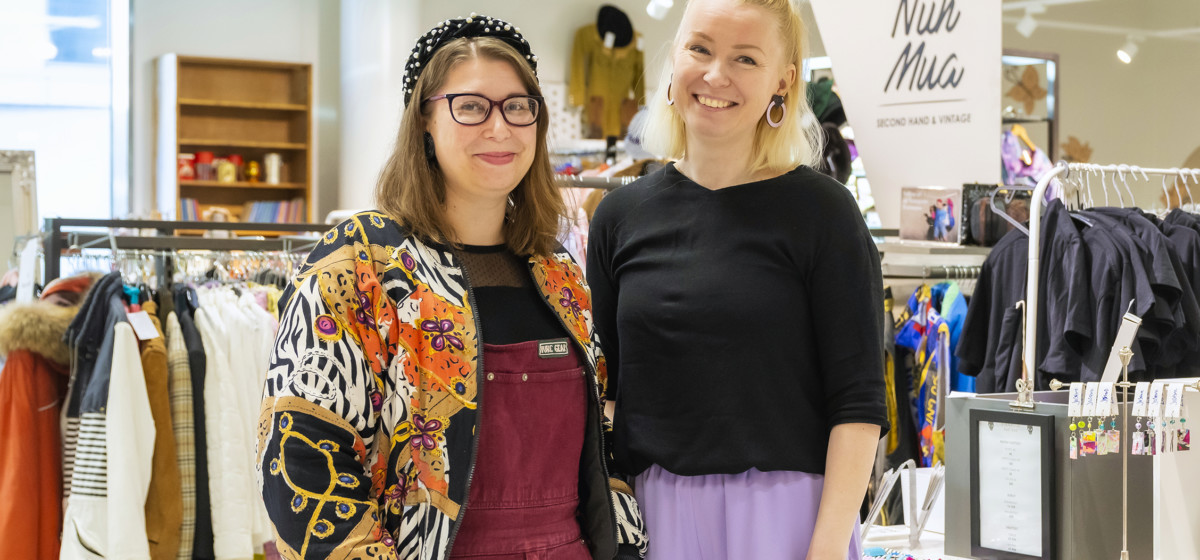 Climate neutrality
Redi's Recycling Mall receives an overwhelmingly warm welcome
A recycling shopping centre, located inside the Redi shopping mall in Helsinki, opened its doors last fall. The experiences so far have been extremely positive, regardless of whom you ask.
Redi shopping mall is situated in the heart of Kalasatama, near the city centre of Helsinki. Redi was establised in 2018, and just like all other shopping malls, was shortly afterwards affected by the Covid-19 pandemic.
To attract new audiences and find new ways to do business, shopping malls needed to innovate. Tanja Linsiö, CEO of Redi, says the shopping mall wants to find alternatives to consumerism, highlighting sustainable ways.
This gave birth to the idea of establishing a circular economy shopping centre of recycled materials within the mall. This innovative idea was just what Redi needed!
It was also an answer to the local people's demand. Consumers in Kalasatama had long asked for secondhand shopping opportunities, Linsiö says.
Redi decided to offer much more. The shopping mall had empty space on its upper floor and difficulties finding new tenants, even though the commercial space was conveniently situated just a few steps from the metro station.
At the same time, the Helsinki Metropolitan Area Reuse Centre, Kierrätyskeskus, was looking for space for its new pilot, a recycling centre. A match made in heaven, one could say, when these two found each other.
A completely new consuming area could be born here!
Constant testing
Linsiö is very pleased and proud of the results so far. Consumers have found the recycling shopping centre and its stores.
Helsinkismart.fi wrote an article last spring when the recycling shopping area was under construction. The number of enterprises joining the mall was still unclear, although the idea generated a lot of interest.
Read more: Helsinkismart.fi – Circular economy inside a shopping mall
One of the companies waiting for the recycling mall to start was Vaatepuu. Soile-Maria Linnemäki, the CEO of Vaatepuu, said then that the pilot was perfect for her company.
In Vaatepuu stores, consumers can rent quality clothes, also via a web service, but the company needs stores where consumers can try on clothes and different styles, and receive personal service.
Linnemäki was excited and happy about the opportunity to get involved. What does she think now, after a few months of doing business in Redi's recycling mall?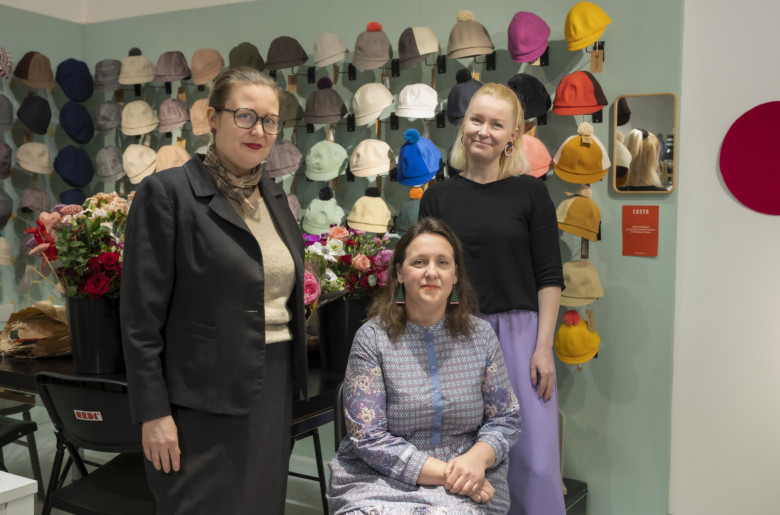 Vaatepuu is situated in the Second Hand Market inside the recycling shopping centre. In addition to Second Hand Market's stores, the recycling mall in Redi's upper floor has also familiar secondhand chains like Fida and UFF.
– First of all, this pilot is different from anything else I've been involved in. At the same time, it has been extremely interesting. We are constantly testing what works and what does not, where to go next and what to avoid. So far, the experiences have been rewarding, Linnemäki says.
But because the pilot has many participants with their specific interests, things do not happen quickly. Linnemäki says there is still much to further develop. The entrepreneurs are planning to establish a co-op concern which can be joined on a voluntary basis.
Customer service should also be developed to tailor the customers varying needs. The recycling mall currently focuses mainly on fashion, but the goal is to expand its range of offerings. Once the variety of goods increases, it may be helpful to seek guidance not only on fashion but also on other topics, such as purchasing a used computer. Additionally, having a carpenter in the group could be beneficial.
New Audiences
The Recycling Mall hasn't had large and costly campaigns. Rinna Saramäki, the CEO of the Second Hand Market, is pleased with the media publicity it has gained. After the beginning, word of mouth has been loud and strong.
When looking for sustainable consuming possibilities, Redi's recycling shopping mall is a must. Here you can find about 50 entrepreneurs' assortments and services side by side.
Vaatepuu's Linnemäki has also noticed the impact of word of mouth. A few days ago, Second Hand Market welcomed foreign visitors, hosted by a Finnish minister. The minister had mentioned that this is the place everyone is talking about.
– We have regular visitors coming not only from Kalasatama but across the capital area, Saramäki says.
She says that the recycling centre has probably attracted audiences that normally would not shop in traditional secondhand stores.
– People say they like the appearance of the area and how pleasant it is to walk around and check the assortments.
Plans to scale up the centre
The aim of the pilot in Redi is to try to find out how cooperation between different companies work. It also collects data to further develop recycling malls.
It is crucial to listen to the consumers. If they like the idea of many recycling companies joining together in the same space and doing their shopping there, the pilot may have a bright future. Perhaps in the near future, Finns will have a chain of such malls.
One of the best advantages the recycling mall offers entrepreneurs is a network of their peers. They have the same kinds of goals: they want circular economy to flourish and, of course, their own businesses as well.
Linnemäki says the conversations they have had together have been very encouraging.
She is especially happy about her neighbor Viivin Vintage store and the owner Viivi Vähälä. These two entrepreneurs are planning to test a new idea where customers can rent vintage clothes in addition to Vaatepuu's new Finnish design clothes.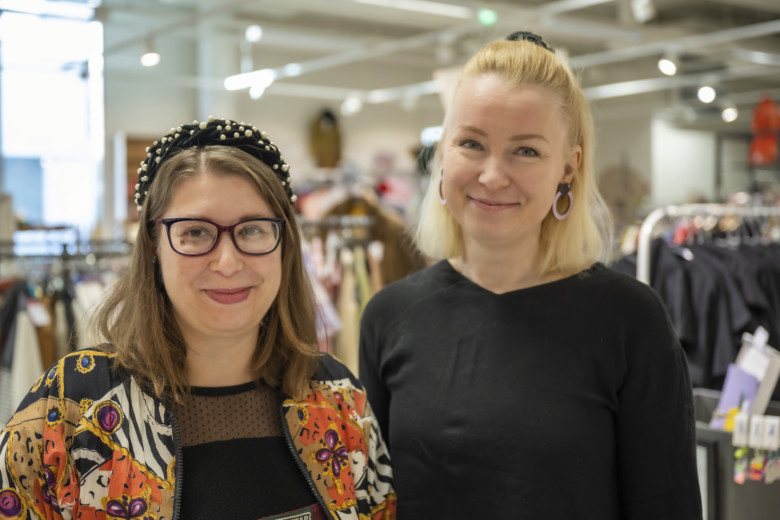 Saramäki says she sooner or later wants to scale the Second Hand Market and is impressed by the interest the pilot has gained. At the moment, there are plenty of shopping centres wanting to include secondhand markets inside their spaces as well.
– So many agree with me that recycling opportunities should become a normal part of malls, Saramäki says.
Vaatepuu's Linnemäki wants to be part of the movement. Together with the entrepreneurs, this could succeed. But first, she plans to refine their shared vision, develop the Market further, and resolve even the tiniest details. Then it would be easier to help customers save the world.
Helsinki-Uusimaa Regional Council and The European Regional Development Fund have funded the pilot.
Second Hand Market is a co-operative store hosting multiple sustainable brands, vintage sellers and circular economy services.
Return to listing
Second Hand Market is a co-operative store hosting multiple sustainable brands, vintage sellers and circular economy services.