Cases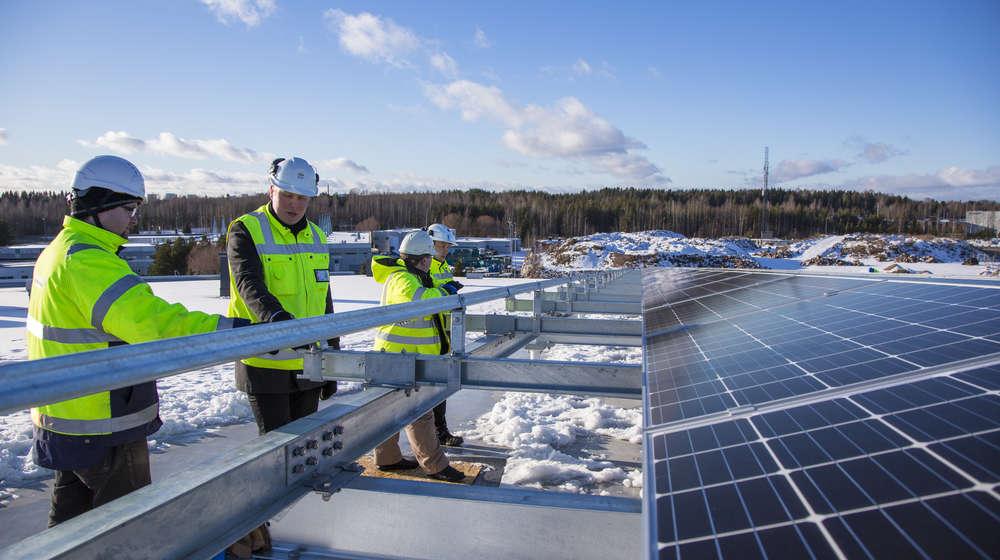 Climate neutrality
Solar power for lease – it's customer's choice how to produce electricity
Many of us are interested in choosing solar energy to produce clean and safe energy for our own households. There is a common dream of having a house with solar panels on the roof.
However, many of us do not have the house or needed skills to install or maintain such panels. Or there are other constraints of site, permissions or plain bothering to do all needed measures. What to do then? Now there is a smart way to solve problems – own your own solar production installed and run by pros!
Helen Ltd. has opened Finland's largest solar power plant in Kivikko, Helsinki in April 2016. It has almost 3,000 solar panels, and its estimated annual production corresponds to the annual consumption of about 350 one-bedroom apartments.
A customer – be it a private person, firm or industry will get renewable energy self-sufficiently and according to how much is wanted. The panels are leased out as designated panels. A designated panel costs EUR 4.40 per month, and the panel's yield is refunded on the customer's electricity bill.
– People who have acquired a designated panel have a concrete impact on how electricity is generated in our country. If the Kivikko solar panels are sold out, we will build a third power plant in accordance with the same principle. Our customers will decide! says Project Director Atte Kallio.
First megawatt station in the Nordics
Essential part of Finland's largest solar power plant is the first 'megawatt station' solar plant in the Nordic countries.
The total output of Helen's solar power plants – Kivikko and Suvilahti, which started operations a year ago – exceeds one megawatt. This is about 13 per cent of the solar power production connected to the national grid.
Completely new product and service models on the way
– We are in the process of planning completely new product and service models. For example, we can build, finance and maintain solar power plants for industrial properties. The customer can gain the benefit of a solar power plant on their own property without an initial investment, Kallio explains.
Helen is interested in international co-operation in solar power development in this new customer concept.
Return to listing
Helen Ltd is one of the largest energy companies in Finland
Read more about solar energy from Helen.
Read article about the Kivikko power plant.
For further information, please contact: 
Seija Uusitalo
Head of Communication
+358 9 617 2702
seija.uusitalo@helen.fi