News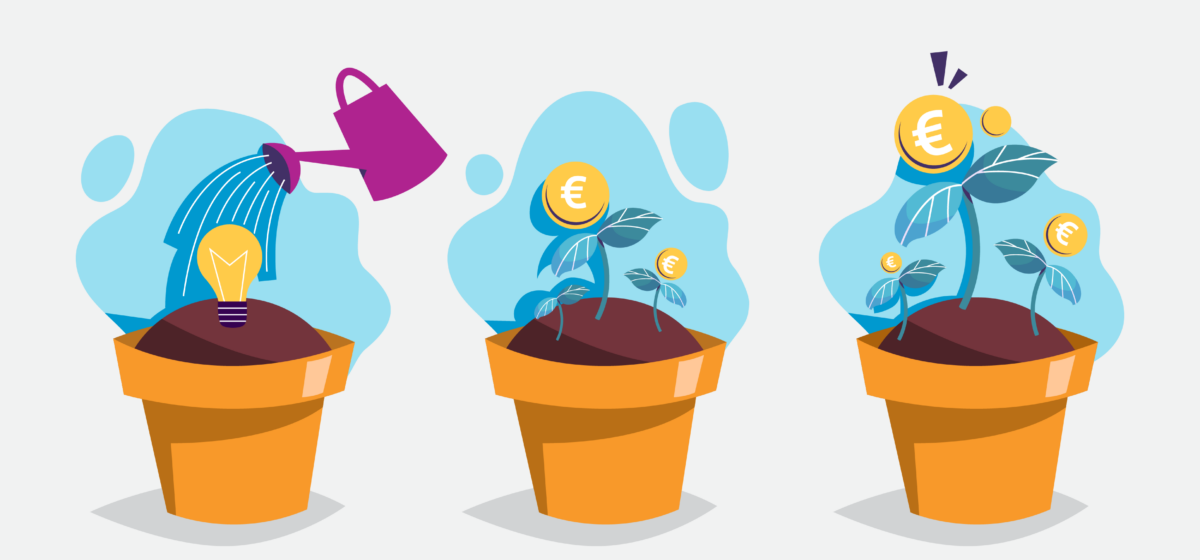 Helsinki-Uusimaa is the Finnish leader in Horizon Europe participation 
Helsinki-Uusimaa Region has acquired over 400 million euros of EU funding from EU's top research and innovation (R&I) funding programme Horizon Europe in 2021-23. Region's research-focused organisations and SMEs have been particularly successful in leveraging EU funds for their R&I activities. Altogether, Helsinki-Uusimaa Region has received more Horizon Europe funding than all other Finnish regions combined.
The Helsinki-Uusimaa Region is a true driver for growth in Finland, as it produces up to 39.6 percent of the Finnish GDP. Moreover, the region serves as the homebase for the top-ranking research institutions and companies in Finland and thus the region's strong success in acquiring European R&I funding impacts the whole national landscape as many of the top-performing organisations are not only active in Helsinki-Uusimaa but have departments scattered across Finland.  
When compared with best performing regions in Europe, Helsinki-Uusimaa ranks very well in Horizon Europe participation and funding leverage. Despite excellent performance and success in EU funding compared to other Finnish regions and European counterparts, more actors need to be encouraged to take part in EU funding programmes to make sure that more companies and organisations of different sizes and focus areas have access to benefits of public funding, industry-academia collaboration and international networks.
Key to success in top-class research
Horizon Europe is a key EU funding programme focusing on research and innovation in big consortia projects during the funding period 2021-27. During the first two operational years of the programme, organisations in the Helsinki-Uusimaa Region have been even more active and successful in applying and receiving funding for collaboration projects than during the previous funding programme Horizon 2020.
Helsinki-Uusimaa's success in EU R&I funding is based on two spearheads: being home to world-class research institutions and headquarters of companies that actively apply for R&I funding from the European Union.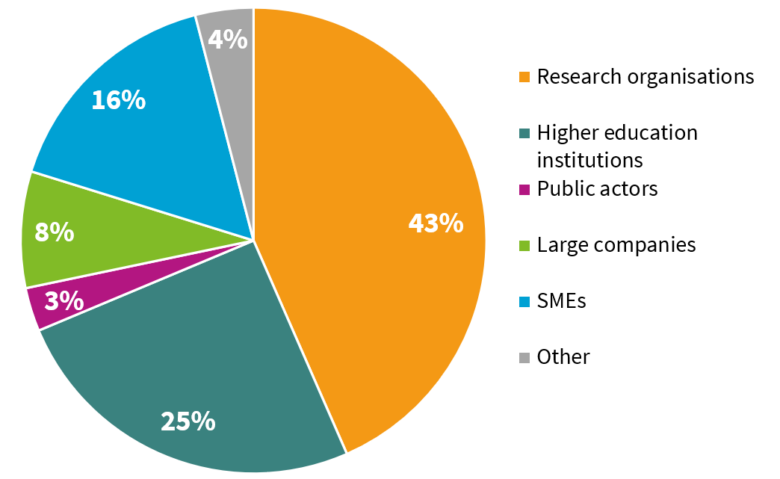 One of the successful actors has been Helsinki University Hospital HUS which has been active consortium project coordinator and partner in the Horizon Europe projects having secured significant funding for 10 projects so far with a focus on, for instance, cancer and health technologies.
The major scientific actors in the region have been active as well: The Technical Research Centre of Finland, VTT, together with the two major universities University of Helsinki and Aalto University are the most active Finnish participants in Horizon Europe.
Especially VTT has been hugely successful in acquiring external funding; VTT covers 17 percent of the total funding that Finland has received from the first years of Horizon Europe. VTT's focus has been especially on projects that are produced as industry-academia collaboration. The research centre is one of the top performers in the programme across Europe.
In the research field, University of Helsinki is leading Finnish participation in highly rated European Research Council (ERC) funding, which is meant to drive Europe's scientific advances. The university has received 15 percent of the funding that has gone to Helsinki-Uusimaa. Approximately half of this funding has come from the ERC.
The third top performer from Helsinki-Uusimaa, Aalto University has a more balanced approach on funding as the university has received funding both for industry-academia collaboration and high-class basic research (ERC). The university has also received funding for transitional activities to transform the cutting-edge research to new business. Altogether, the university has received 9 percent of the region's total take from Horizon Europe.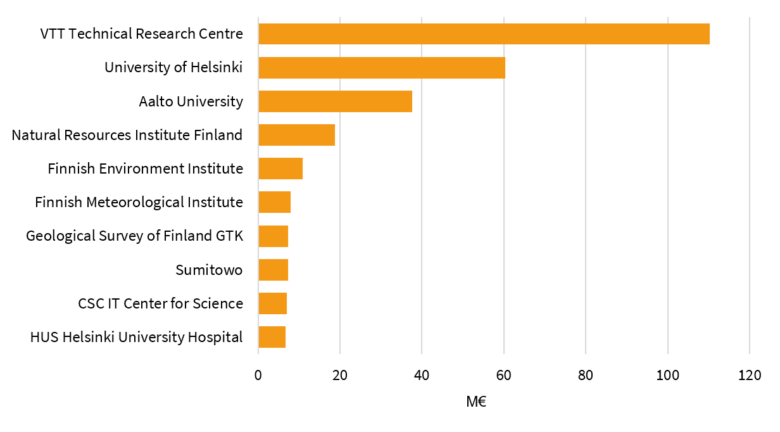 Funding for companies for industry renewal and disruptions
In addition to research organisations, companies based in Helsinki-Uusimaa, like Nokia and ABB, have taken active part in Horizon Europe projects as participants. The companies' participation brings a major increase in impact, industry-academia collaboration, and leverages more public funding to the region.
Currently, the largest share of EU funding has been targeted at energy supply, clean hydrogen, and industry resilience. Projects linked to green and digital transition have been popular among the Finnish participants. The R&I funding has also contributed to areas such as quantum computing, microelectronics and human-centred digital development.
Besides major corporations, EU funding for small and medium-sized enterprises (SMEs), has made a steep jump upwards in the past two years. For instance, companies in the capital region have been able to harness the highly coveted EIC Accelerator funding for SMEs. All in all, thirteen SMEs have secured over €30 million for their scaling up efforts. The successful SMEs have received funding for topics ranging from healthcare technologies to green transition and weather monitoring among others.
How to secure EU funding success?
While Helsinki-Uusimaa has excelled in securing Horizon Europe funding, there's room for further growth. To fully benefit from available funding opportunities and access to international ecosystems and networks, especially larger companies in Finland could more actively engage in European networks. Their active involvement not only promises economic benefits but also positions the region at the forefront of cutting-edge research and information exchange. By fostering stronger partnerships and embracing collaborative projects, Helsinki-Uusimaa can continue to excel in research and innovation and offer solutions for major global challenges.
Helsinki-Uusimaa Regional Council has launched a study and engagement process together with innovation and regional development consultancies Spinverse and MDI to better understand what needs to be done to accelerate region's success in the EU funding programmes and international collaboration. The process consists of survey, interviews and roundtables combined with desk study to analyse the status quo and design a pathway towards the future.
Data used in the analysis is gathered from: CORDIS – EU research projects under HORIZON EUROPE (2021-2027).
More information:
Venla Virkamäki
Senior Adviser, Helsinki-Uusimaa Regional Council
venla.virkamaki@uudenmaanliitto.fi
+358 406194133
Veera Mustonen 
Director, Spinverse 
+358 40 508 4022 
Return to listing