Events
Innovative Business to Solve Exponential Problems
4.2.2022 - 4.2.2022
Every year, VTT iBEX launches an internal call to source bold and visionary ideas to tackle grand and global challenges. The proposed solutions are evaluated based on problem definition, potential impact and what would be needed to solve the challenges. VTT warmly welcomes you to follow the results of the 2021 projects for this final event!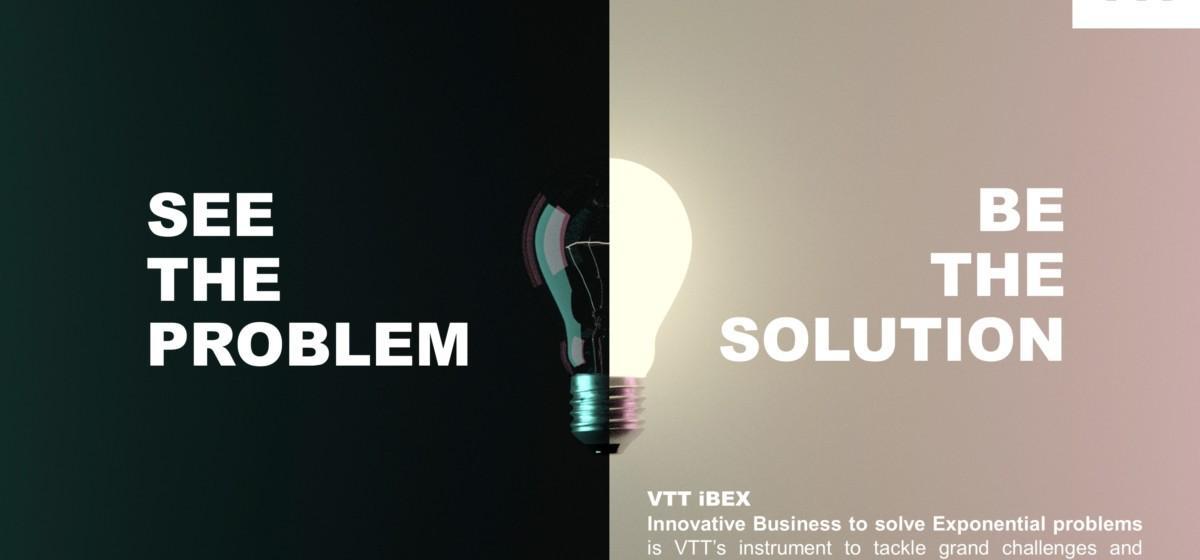 Organiser: VTT Technical Research Centre of Finland
VTT iBEX – the runway of innovation
VTT iBEX is an annual early-stage innovation programme, which gives researchers of VTT the opportunity and tools to solve the most pressing global problems. They have one year to identify, address and solve a critical challenge by developing technologies that will help change the world. This event is the final event of iBEX 2021, where 10 projects will present their results.
Projects
ELAIS
Project Lead: Nesli Sözer
Can we harness most the modern industrial biotechnology tools and cell factories to produce animal-free fat compounds?
ArtOfCell
Project Lead: Elbuken Caglar
Can we change the way we perform biosensing by replacing the electronic parts with artificial cells that have a direct link to our senses?
Active Carbon
Project Lead: Pekka Simell
Can we reduce the cost and energy associated with using CO2 for production of valuable chemicals?
Chem2Bio
Project Lead: Sandra Castello
Can we use AI to expand the enzyme versatility beyond nature?
AI Empowered Material Scientist
Project Lead: Caj Södergård
How can we use AI to help us make groundbreaking scientific discoveries?
OrigamiPower
Project Lead: Elina Huttunen-Saarivirta
Can we use nature to inspire the development of new types of energy sources?
SmartLife
Project Lead: Liam Gillan
Can we protect and improve our health by monitoring the effects that lifestyle interventions have on us?
Cellulose-eskin
Project Lead: Mohammad Behfar
How can we make sustainable and eco-friendly skin-mounted wearable electronic devices?
ANTI-CO2RROSION POLYMERS
Project Lead: Adina Anghelescu-Hakala
How can we tackle corrosion processes in reinforced concrete structures?
Return to listing