Events
Research Spinout Showcase
12.5.2022 - 12.5.2022
Are you interested in research-based startups? Finnish Business Angels Network, Finnish Venture Capital Association, Helsinki Innovation Services, and Helsinki University Funds join forces to showcase the most interesting R2B spinout companies and research projects stemming from the university ecosystem. Mark your calendar for the showcase event on May 12th from 8:30-10:30.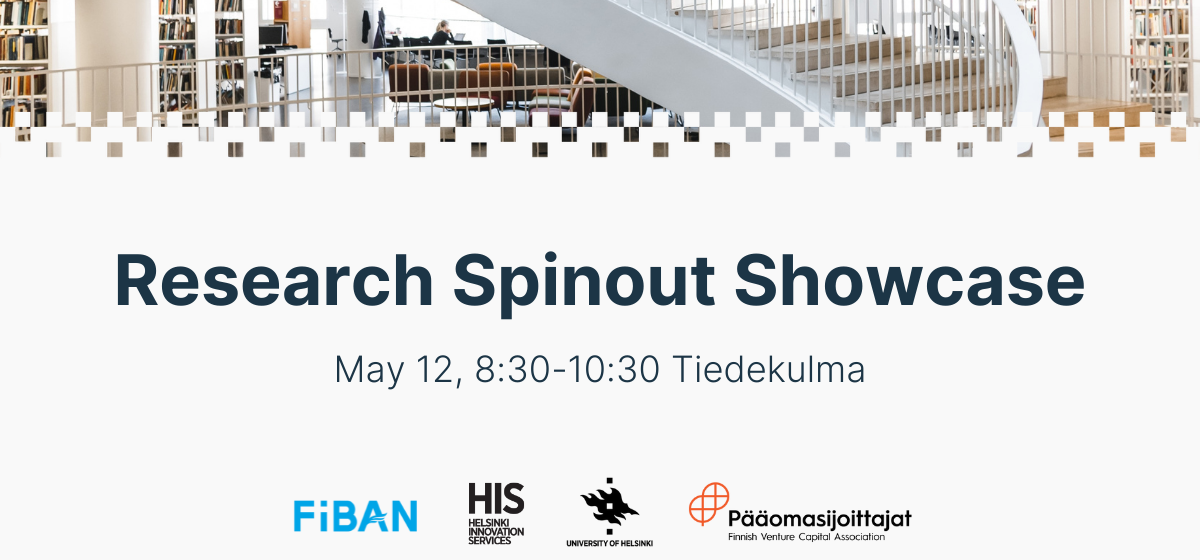 Program
8:30 Breakfast & networking
9:00 Welcoming words
9:10 Showcase 1: Spinouts
9:45 Showcase 2: R2B projects
10:00 Networking
Location
Tiedekulma, Yliopistonkatu 4, Helsinki
Introducing three of the spinouts / R2B projects that will be showcased
Veil.AI Oy
Helping Life Science and Healthcare organizations in transborder data collaborations
In healthcare, patients' health data is made secret to ensure privacy. Yet being able to share actual patient data includes many benefits. How can we improve accessibility and privacy, maintaining both quality and utility?
The VEIL.AI Anonymization Engine creates high-quality low level anonymized data for pharmaceutical companies, MedTech, and hospitals. It makes sensitive data safe to use for research, development, and innovation without compromising patient privacy. 
FreshTech (project)
Packaging component for improving vegetable shelf life
Almost 20% of vegetable production is wasted by supermarkets and consumers annually in the EU and the USA, meaning €200 billion is quite literally thrown away.
FreshTech helps reduce this waste, its costs, and the environmental impact.
MegaSense (project)
Real-time air quality data every day, everywhere
Accelerating global urbanization and the rise of megacities are causing 90% of the world's population to breathe polluted air.
MegaSense is a scalable, living, intelligent air pollution prediction and decision support system.
Return to listing