Events
Webinar: Helsinki-Uusimaa Mobility Innovation Ecosystem
15.9.2022 - 15.9.2022
Helsinki-Uusimaa Mobility Innovation Ecosystem introduces the innovative and agile public framework connected to smart mobility actors.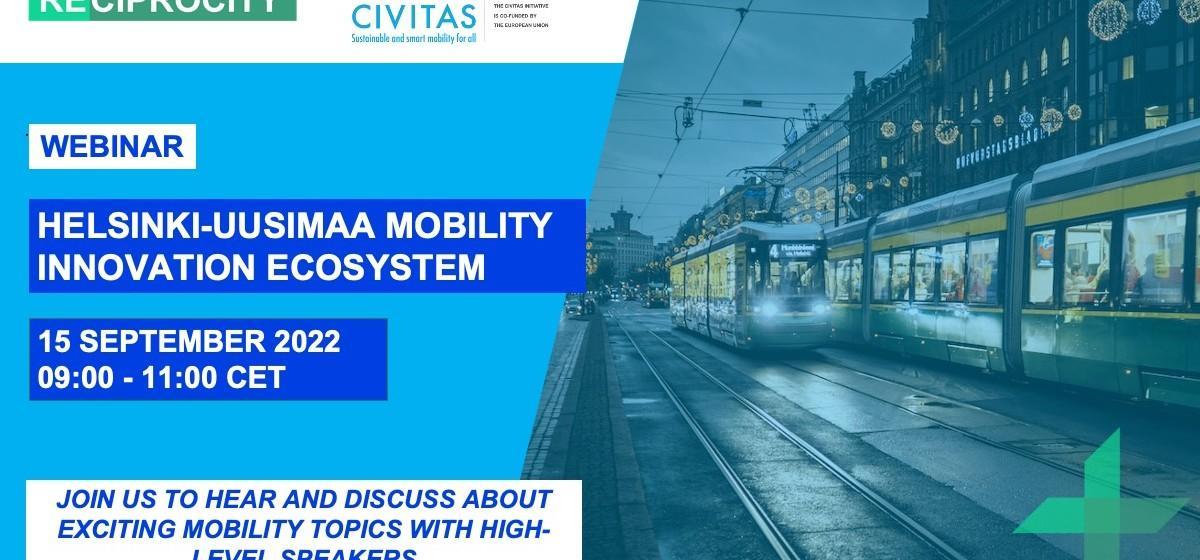 The creation of new smart mobility solutions has been made easy in Helsinki and Finland. The government and the capital region cities are committed to further enabling future intelligent mobility. The legislation is favourable for new experiments and the recent heavy deregulation makes it easier for new types of transportation services to enter the market.
Helsinki-Uusimaa as a region contains urban testbeds to pilot and scale mobility solutions in real-life environments. Helsinki is also the home of the first open mobility-as-a-service ecosystem in the world. From top R&D possibilities, product development opportunities, unique piloting platforms, global expansion, university and research collaboration, funding, talent and partners – the Helsinki-Uusimaa region has vivid smart mobility ecosystem!
Agenda
Time slots Eastern Europen Time
10.00 Opening
Invitation to the next Mobility Mission in Helsinki 5.-7.10.2022 | Sakari Saarinen, Senior Adviser, Helsinki-Uusimaa Regional Council
10.10 Plenary Session
Smart Mobility Innovation Perspectives in Finland | Johanna Juselius, Special Advisor to the Minister, Ministry of Transport and Communications
Helsinki-Uusimaa Mobility Innovation Ecosystem | Sami Sahala, Senior Specialist, Smart Mobility, Forum Virium Helsinki
Research perspectives on emerging mobility technologies and services | Miloš Mladenović, Assistant Professor, Department of Built Environment, Aalto University
11.00 Pitches
Mobility budget for employer | Sampo Hietanen, CEO MaaS Global Ltd
The EU Mobility Data Space project and how to integrate Citizen Mobility Data using MyData Operators | Paul Theyskens, Business Architect, IMEC
Electrification of road network | Tapio Ojanen, Deputy Director, Finnish Transport Infrastructure Agency
LuxTurrim5G ecosystem | Juha Salmelin, Nokia Group
CaaS driving sustainable logistics | Matti Lankinen, CEO, Vediafi Ltd
11.50 Discussion
Background
H2020 RECIPROCITY -project aims at transforming European cities into climate-resilient and connected, multimodal nodes for smart and clean mobility through an innovative four-stage replication approach.
Mobility is changing. Urbanisation, climate change and digitalisation challenge how people and goods move from point A to point B. To cope with these ever-increasing challenges and meet European and global climate targets, urban and peri-urban areas need to become climate-resilient and connected, multimodal nodes for smart and clean mobility.
The RECIPROCITY has at least 20 cities across Europe, of varying size and mobility demand, with the necessary tools, knowledge, contacts and methods to accelerate the replication of existing innovative mobility solutions.
Return to listing