Cases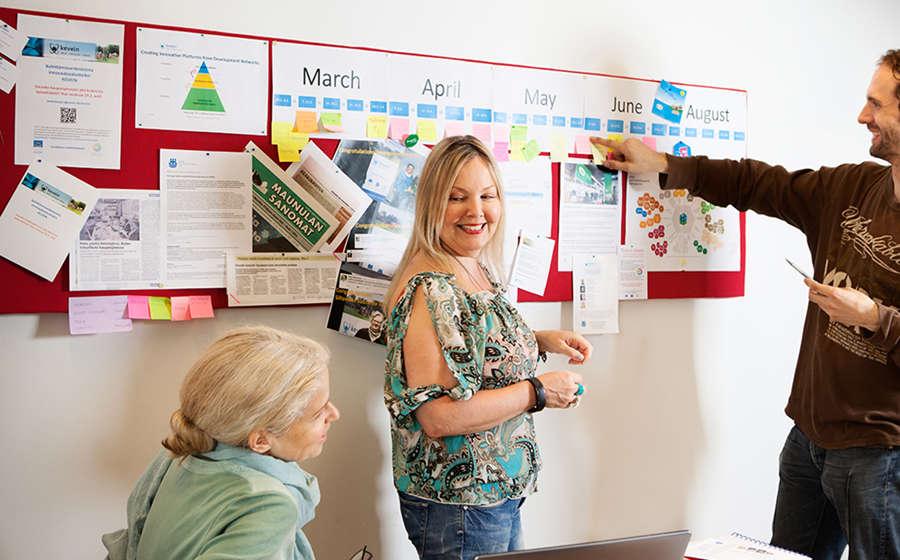 Citizens' city
Let's upgrade welfare city to the next level
What do you get when you combine Helsinki, innovation, and local neighbourhoods? Wellbeing and happy communities, where people participate in creating new solutions for locally experienced problems.
We Finns have always survived by getting innovative. Our social innovations laid the foundation to the Nordic welfare state model. Now we will upgrade welfare city to the next level. To a city that inspires, develops and enables.
The aim of project KEVEIN is to create a new, scalable model of welfare society by strengthening local communities and their capabilities to solve local problems and challenges in innovative ways. In this project we coach and support three chosen Helsinki neighbourhoods on their way towards becoming living innovation platforms.
Herttoniemenranta: Partnerships and social progress
Herttoniemenranta neighbourhood focuses on community and local economy headed by a group of small entrepreneurs. Representing the fields of wellbeing, sustainable development and ethical/social business they are building a network and searching for suitable joint premises to offer services that come from the local residents' needs. For this they are looking for partners with a mindset that will have an important role in the welfare state model of the future: partnerships supporting common good and social progress instead of competitors after personal gain. To meet the local needs they are also looking for active residents who want to participate in creating and developing the new concept together.
Maunula: Neighbourhood democracy 3.0
Maunula is building a community center with 3.0 co-governance model. The platform consists of citizen representation, regular meetings and participatory budgeting. It enables a diversity of groups to meet, generates cultural services and creates a base for neighbourhood democracy. The goal is to divide resources according to the residents' wishes and needs, seeing them as equal partners with the cooperating Helsinki City Library, Adult Civic Education Unit and Youth Department, responsible for the activities. The center, Maunula Hall, will be opened in December 2016.
Siltamäki-Suutarila-Töyrynummi: Holistic wellbeing for senior citizens
In this north-east area of Helsinki the focus is on services for senior citizens. At the top of the list are preventing loneliness, precautionary health work, improving everyday life as well as enhancing physical, mental and social wellbeing. The core of the activities is a triangle of health, nutrition and exercise together with the local operators. The global trend indicates that the portion of senior citizens of the world population is steadily growing so we need solutions starting from the local level.
Common for all these three smart neighbourhoods is building-up cross-sector networks and developing the wellbeing of the whole area.
Studying how their networks develop, what kind of challenges they meet and what kind of solutions they find produces valuable information that can be utilized in other neighbourhoods as well. Toolbox includes a custom-designed web application, criteria for local innovation platforms and a self-assessment tool.
Come join our journey
We are now looking for international partners with passion for local, community led, network based development. Let´s learn from each other and find the best practices together!
KEVEIN project has ended in autumn 2016, but we are still open for good ideas, cooperation and partnerships. If you are interested, please contact Executive Director Pirjo Tulikukka, Helsinki Neighbourhoods Association.
For further information, please contact:
Pirjo Tulikukka
pirjo.tulikukka@helka.net
Return to listing
For further information, please contact:
Pirjo Tulikukka
pirjo.tulikukka@helka.net