News
Regional Programme leading towards ecologically sustainable, financially responsible and socially equal Helsinki-Uusimaa
The new Helsinki-Uusimaa Regional Programme includes the vision of the area being Well Ahead in climate change mitigation, financial competence and wellbeing in 2030. Apart from the vision, the Programme comprises priorities, objectives and actions for 2022–2025.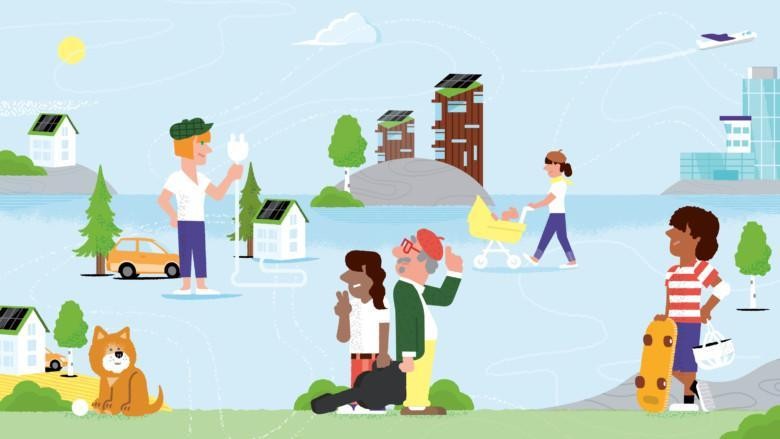 – Solving complex problems, such as climate change mitigation and coping with the Covid-19 crisis, requires looking beyond one's own region and field of action, Ms Outi Ervasti, Development Manager, says.
Climate-smart awareness, success and happiness
While being approved, the Programme was given a more ambitious annual target. It is now set for 2030 instead of 2035. Our objective is to be a climate neutral region in 2030. It is also a significant object on a national level, as Finland strives to be climate neutral in 2035 and we produce about a fifth of all emissions in the country.

–We have succeeded in decreasing the emissions in the last years, but a lot of actions are still needed for climate neutrality. With our ambitious objective we want to ensure that there is a pleasant and clean environment for everyone to enjoy in the future, as well, Ms Rosa Tuomi, Senior Adviser, states.
Our objective is to increase Helsinki-Uusimaa's research and development expenditure to 5 per cent of the region's gross domestic product. Currently, it is 3,5 per cent.
–Based on international comparisons we know that our region is already an excellent environment for foreign investments. To strengthen the level of education and training, along with the capability of innovation we need more inputs into research, development and innovation, Ms Tuomi adds.
Another objective of ours is to achieve an employment rate of 80 per cent in Helsinki-Uusimaa by the end of 2030, being 75 per cent in 2021. We seek to offer our residents the best opportunities for a good life of safety.

–When it comes to recovering after the coronavirus pandemic, we are facing a turning point with a risk of increasing marginalization, isolation and insecurity if we fail to take care of those in a weaker position. Therefore, it is of vital importance to strengthen the welfare, the trust and confidence in the future, as described by Ms Ulla-Mari Karhu, Planning Manager.

Co-created guidelines

The Helsinki-Uusimaa Regional Programme offers guiding principles for the overall regional development and the allocation of regional resources to be implemented by the member municipalities, the government administration, as well as the entrepreneurial and the educational sectors.

The regional parties that have drawn up the Programme with the Regional Council include municipalities, universities, upper secondary schools, civil society organisations, business organisations and many other development bodies

> Read more about the Helsinki-Uusimaa Regional Programme
> Well Ahead – Helsinki-Uusimaa Regional Programme 2022–2025 (pdf)
Further information about the Helsinki-Uusimaa Regional Programme:

Development Manager Ms Outi Ervasti, phone +358 40 721 2131

Return to listing