Events
AI Webinar & Ideathon on Preventive Health Care
14.10.2022 - 31.10.2022
Four ideathon style webinars and workshops for Artificial Intelligence Potential in Preventive Healthcare will be organised during October 2022. Pick your date!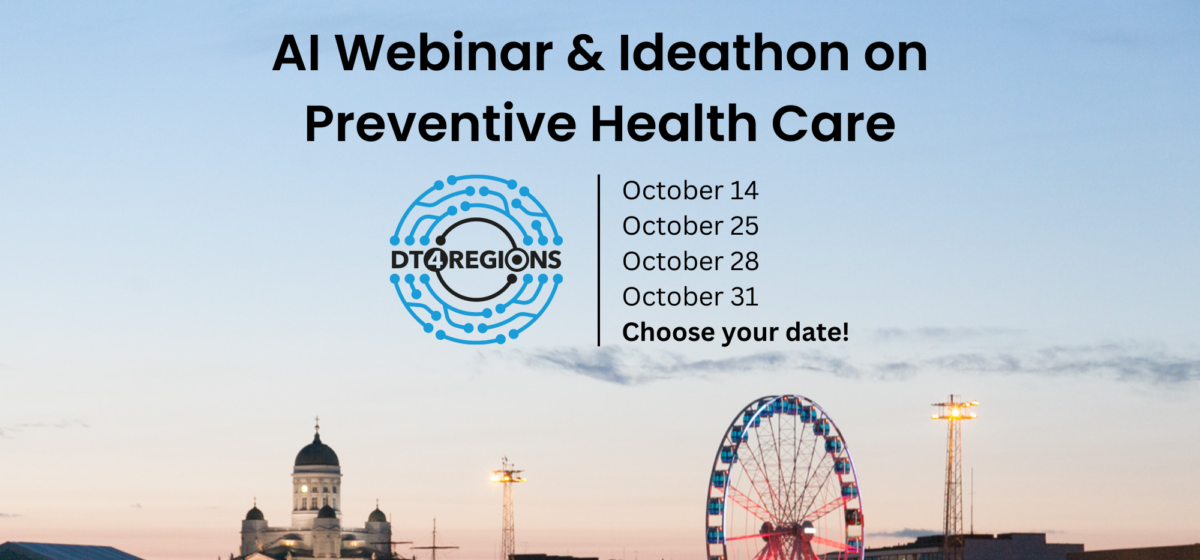 The best ideas will be awarded!
In October 2022, the DT4REGIONS project, in collaboration with the Helsinki-Uusimaa Regional Council, will organise four ideathon workshops for Artificial Intelligence Potential in Preventive Healthcare.
Click the webinar you prefer to see the programme & register!
Upcoming webinars:
28 October 9-11.30 CET Online only, focus in Sweden
31 October 9-11.30 CET Online only, focus in Norway
The launch was held on 14 October at DIAK University of Applied Sciences in Helsinki. The event was hybrid.
On October 25, the second webinar was held, with focus in Denmark.
What is an ideathon?
An ideathon is an open innovation event, where bright minds join to produce innovative ideas in a thematic area.
We are looking for new ideas how to use AI for preventive healthcare – awards are waiting for the best ones!
Smart use of AI powered health data contents is a great opportunity to improve public health system efficacy. Especially, allowing improved interoperability between social services interventions data and primary healthcare data there is a possibility to mitigate workload of the personnel as well as improve the quality of care. Sustainable, Connected and AI powered processes can be utilized on various levels of public care and support functions. For preventive healthcare AI can improve the accuracy and quality of treatment, or slower the development of disease or even prevent some health issues occurring.
"Advancements in sensor technology and machine learning will radically improve our ability to continuously gather data on public health, accurately predict individual risk factors, and measure the impact of preventative care on the health of individuals and society at large. We'll be able to deliver better, more personalised care, improving outcomes and efficiency." – KIN+CARTA
To find the new solutions for preventive healthcare we need the power of crowds and cocreation. Join the movement, be part of the solution for future health!
Here's what you need to do:
Gather a group of creative people to create ideas for the challenge. The challenge will be announced in the event on October 14, 2022
Join one of the events, or all if you like!
Find a challenge that you and your team would like to take part in. The challenges will be published in the events.
Create ideas together with your team. Fill in the form to submit your idea before 31.11.2022.
Chill and wait. The winners will be announced in a webinar before the end of the year. Four winning teams will be awarded with 2500€ each.
For further information, please contact Cristina Andersson at cristina.andersson@develor.fi or Heikki Kallasvaara at heikki.kallasvaara@uudenmaanliitto.fi
Picture credit: Tuula Palaste
Time
-
Location
Microsoft Teams
Admission
Free
Return to listing
Time
-
Location
Microsoft Teams
Admission
Free