Cases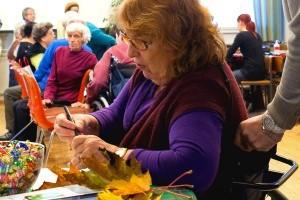 Citizens' city
Bringing creativity, arts and arts-based approaches to elderly care
Creativity and arts activities can be an enriching source at any phase of a person's life. We need experiences, emotions and possibilities for self-expression also later in life.
Arts, arts-based methods and a creative approach can have significant roles in supporting a meaningful everyday life in elderly care. Using creativity and arts in elderly care can mean very simple things like humming or sharing memories. Participation in arts activities or seeing a performance can be important sources for joy, too.
A creative approach in research
Arts activities and the creative approach as part of elderly care has been studied in a research project conducted by Helsinki Metropolia University of Applied Sciences. The preliminary research findings highlight the empowering element of the creative approach in elderly care. This applies both to the professional working approaches as well as the experiences of the elderly in everyday life. For example humming can facilitate care situations, pictures can raise memories to be shared and stories may connect people in the shared experience.
The research will be finished in the end of 2016. The data has been collected by interviewing the staff members and observing the arts activities in an elderly care unit. The research will identify ways in which we can increase knowledge, professional skills, the creative approach and how to encourage the use of arts activities in elderly care. This will help us develop a creative everyday life in elderly care by building structures to facilitate it.
Looking for collaborators
– We invite researchers and developers and those interested to create new approaches in using arts activities and creativity in social and healthcare contexts for collaboration. We are enthusiastic about developing creative and innovative solutions for structures that might facilitate creative everyday life in different contexts and across the lifespan. We also highly value practice that is deeply rooted in current research of the field and hope to develop this topic further into fruitful collaboration, says Project Manager Laura Huhtinen-Hildén.
Metropolia University of Applied Sciences
Finland's largest university of applied sciences
16,200 students
69 degree programmes – 12 of them in English
See website
For further information, please contact: 
Dr. Laura Huhtinen-Hildén
Senior Lecturer, Project Manager
+358 50 401 3469
laura.huhtinen-hilden@metropolia.fi
Elina Ala-Nikkola
Project Producer
+358 50 401 3456
elina.ala-nikkola@metropolia.fi
Return to listing
Metropolia University of Applied Sciences
Finland's largest university of applied sciences
16,200 students
69 degree programmes – 12 of them in English
See website
For further information, please contact: 
Dr. Laura Huhtinen-Hildén
Senior Lecturer, Project Manager
+358 50 401 3469
laura.huhtinen-hilden@metropolia.fi
Elina Ala-Nikkola
Project Producer
+358 50 401 3456
elina.ala-nikkola@metropolia.fi