Cases
Climate neutrality
Climate Leadership Coalition, founded in Finland, is the largest climate business network in Europe
The climate business network Climate Leadership Coalition's mission is to speed up the development of investments, products and services that combat climate change.
Climate Leadership Coalition or CLC makes policy proposals for the public sector: EU, governments – mainly Finnish government by now – cities and municipalities. The policies are intended to achieve far-reaching decisions to create the conditions for economically viable business. CLC was founded in 2014 by the Finnish companies Caverion, Fortum, KONE, Neste, Outotec, St1 and the Finnish Innovation Fund Sitra. The meeting leading up to the foundation of CLC was convened by Antti Herlin, chair of the Board of Directors of KONE.
In the seven years since its inception, CLC has grown into the largest climate business network in Europe in terms of member numbers. CLC now has 87 organisational members including companies, universities, trade organisations, cities and research institutions. CLC members employ 520,000 people globally and represent also 70% of the market cap on OMX Nasdaq Helsinki. CLC also has 52 influential personal members.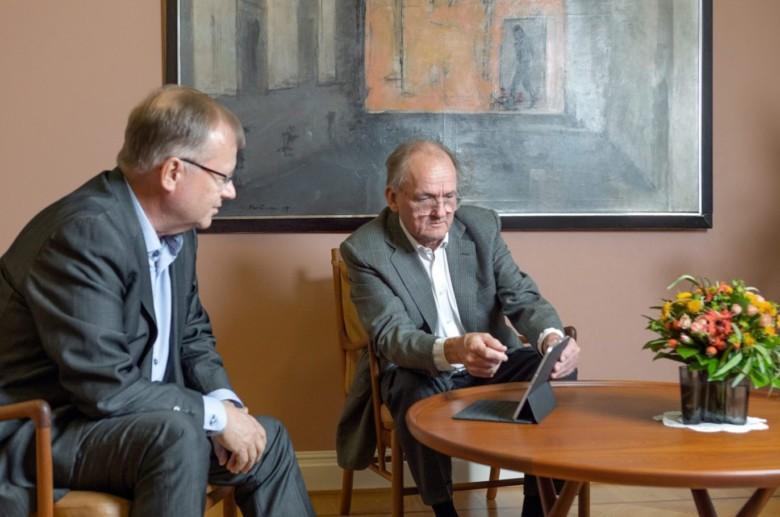 CLC runs regular theme group meetings for its members. The groups decide the topics to focus on each year and consider among other things new business solutions and best practices. The groups have also created ideas and planned projects in practice. For example, the deep geothermal heat project from ST1, Fortum and the City of Espoo was initiated in a CLC meeting. There are 15 theme groups ranging from energy to the circular economy and from agriculture to finance.
Developer of the carbon handprint
CLC, together with its members VTT Technical Research Centre of Finland, LUT University and several other companies have developed a carbon handprint concept, which tells about the positive climate impact of using a low-emission product compared to a higher-emission one.
In 2021 CLC started a project to describe how cities and regions can contribute to the development of the carbon handprint. The project is funded by the Helsinki-Uusimaa Regional Council and the project helps to promote sustainable growth in the region. Cities can offer assets – for example buildings, infrastructure, land – for use as pilot facilities for new solutions. Cities and regions can accelerate demand for new products and services via public procurement and other services and help innovators analyse problems and develop solutions using open data. Systemic carbon handprint development can lead to reduction of negative climate impact while attracting more innovators, clean investments, and jobs to the region.
More together
Based on CLC proposal, together with our Nordic and European partners we founded and international Call on Carbon project, which aims to show support of the global business community for effective carbon pricing. Globally, 3-5 times more investments need to be made in clean solutions to mitigate climate change. If companies cannot predict the price of carbon, it will hamper and slow investments.
Image credit: CLC
Return to listing
Climate Leadership Coalition
Climate Leadership Coalition, CLC, is the largest non-profit climate business network in Europe.
CLC believes that the transition to a sustainable world is possible, economically viable and financeable.
The network encourages decision-makers to speed the green transition and recovery of society through ambitious policies and systematic, market-driven solutions.