Cases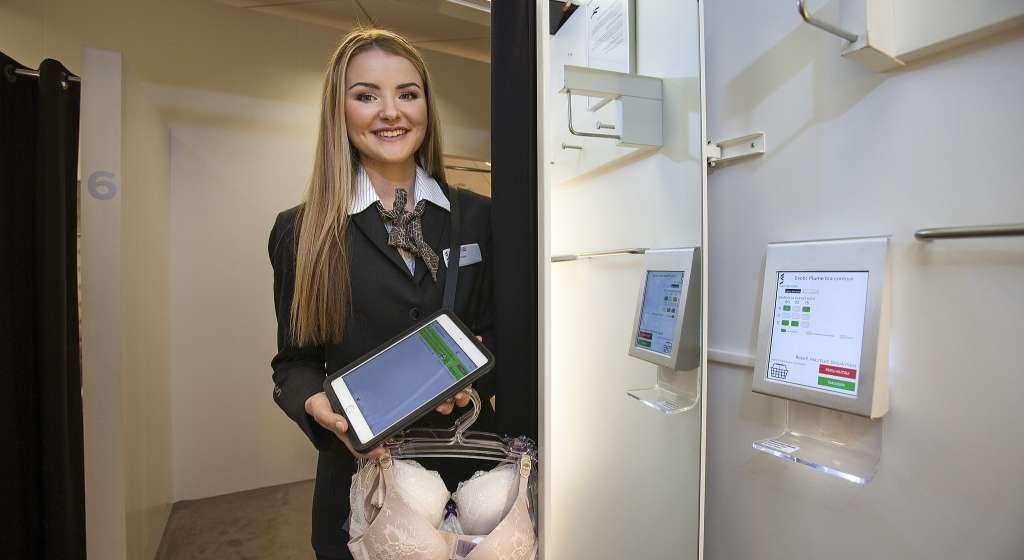 Industrial modernisation
Digital fitting rooms make shopping smooth in Stockmann
Ideally, finding the right product from a large selection of clothing is easy and effortless, but often experiences in the fitting room are far from fun. Stockmann department store decided to take the shopping experience to a new smarter level by starting a pilot with a digital fitting room and customer app.
Have you ever tried on a pile of different clothes, some too big, some too small, went out to look for the sales staff and started to feel frustrated in the process? Stockmann department stores wanted to see if smart solutions can improve the fitting room experience in their underwear and sports departments in Helsinki. The chain of department stores developed an application for a digital fitting room that enables finding the right size and colour as well as asking for help without leaving the fitting room. The service is unique in Finland and developed in-house by Stockmann's ICT department.
The digital fitting room is easy to use: when in the fitting room, the customer can see the availability of the product in all colours and sizes simply by scanning the barcode of the product. The customer can also ask for help from sales staff with a press of a button. Sales staff carries tablets that then signal the help request.
– We have received a lot of positive feedback from our customers. This digital tool improves the convenience and speed of selecting and trying on products, and makes for a smoother shopping experience, explains Elina Savolainen, Senior Development Manager from Stockmann Group.
Customers were invited to participate in the pilot phase by giving feedback and ideas for improvement. During the pilot phase in 2015, customers made over 3 000 calls for sales staff. Up to 86% of the feedback from customers was positive. Also the sales staff felt that they could be of help in a faster and more efficient manner.
Thanks to the positive start, the fitting room expanded to other cities with Stockmann by December 2015. Today Stockmann has 74 digital fitting rooms in place being the only store in Finland providing such service. The next phase is to introduce digital fitting in Tallinn Department Store in October 2016.
Shopping made smarter
Alongside smart dressing rooms, Stockmann has made shopping an omnichannel experience where customers and sales personnel alike can utilize smart tools in the department stores. Stockmann has developed a customer app that allows loyal customers mobile discount coupons, check information about your purchases and get in touch with Stockmann's customer service. Customer App is available for iOS and Android.
Alongside the customer app, Stockmann developed a tablet tool for our sales staff which was introduced in all the Finnish department stores in 2015. Today all Finnish Stockmann department stores are using the tablets meaning around 800 tablet computers in use in the stores. Also department stores in Baltics will start piloting sales tablet tools during Autumn 2016. The sales personnel can browse product information, availabilities and Stockmann digital brochures as well as respond to requests from other staff members and clients. Development work is agile and continues introducing new functionalities step by step. Development work is made together with Reaktor. But this is just the beginning.
– In the long run, we want to provide a service where the sales tool and customer app will communicate with each other thus creating a seamless, omnichannel shopping experience, Savolainen concludes.
The new digital solutions at Stockmann are a part of larger renewal process of the department store chain that is aiming at offering the customers a more interesting and functional customer experiences in all channels. In the near future, Stockmann will renew its systems, tools and process in order to serve their clientele even better.
Image credit Stockmann Group
Stockmann Group:
Established in 1862
For further information, please contact:
Stockmann Media Desk
+358 (0)50 389 0011
Return to listing
Stockmann Group:
Established in 1862
For further information, please contact:
Stockmann Media Desk
+358 (0)50 389 0011