Cases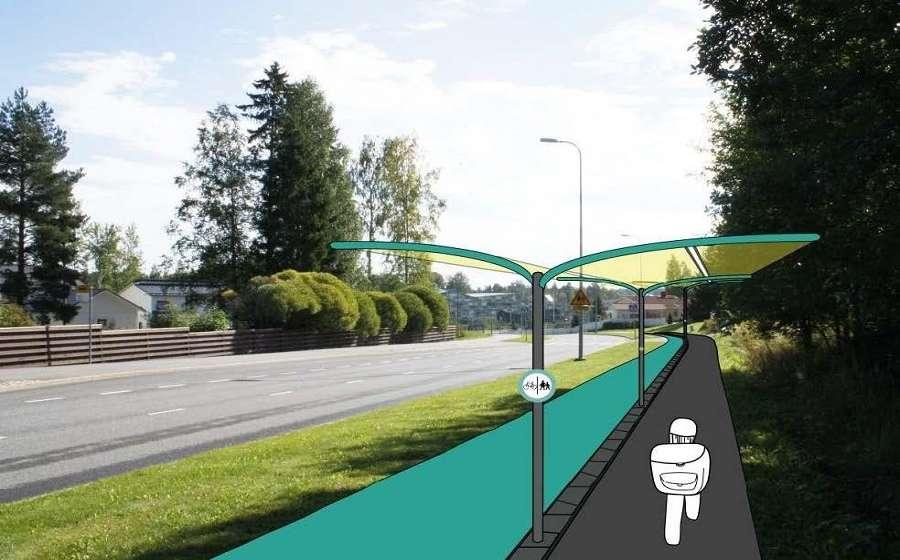 Citizens' city
Kivistö School Path leads children safely to school
In the Nordic countries, children often go to school without an accompanying adult. The resulting safety concerns and children's own fears could easily be reduced through the means of urban planning.
The Kivistö School Path is a distinctive, child-scale cycling and walking path network designed for the residential district of Kivistö in Vantaa, Finland. Its purpose is to guarantee a safe walk or bike ride from home to school and back.
In the recent years, design students at Helsinki Metropolia University of Applied Sciences have carried out a number of innovation projects related to a safe school path for children. This gave birth to the School Path concept.
Students design routes for school kids
The aim of the School Path concept is to establish a network of distinctive, child-scale routes that improve safety while walking and cycling to school. In previous school path projects Metropolia students have, for example, mapped children's fears and wishes regarding school trips and assembled a handbook of elements that constitute a safe path to school. In the Kivistö School Path concept, a school path network based on children's wishes was designed for the Kivistö Housing Fair area situated the Finnish city of Vantaa (Helsinki Metropolitan Area). The concept contains guidelines that help build optimal routes as well as distinct elements for this particular school path.
The practical implementation of the Kivistö school path and other school path concepts take place in cooperation between interested stakeholders, funders and representatives of cities (schools, city planning departments, regional transport authorities etc.). All interested parties are warmly welcome to contact us!
Additional information on the concept is available here (pdf).
For further information, please contact:
Pasi Pänkäläinen
Project Manager
pasi.pankalainen@metropolia.fi
Return to listing
Additional information on the concept is available here (pdf).
For further information, please contact:
Pasi Pänkäläinen
Project Manager
pasi.pankalainen@metropolia.fi