Cases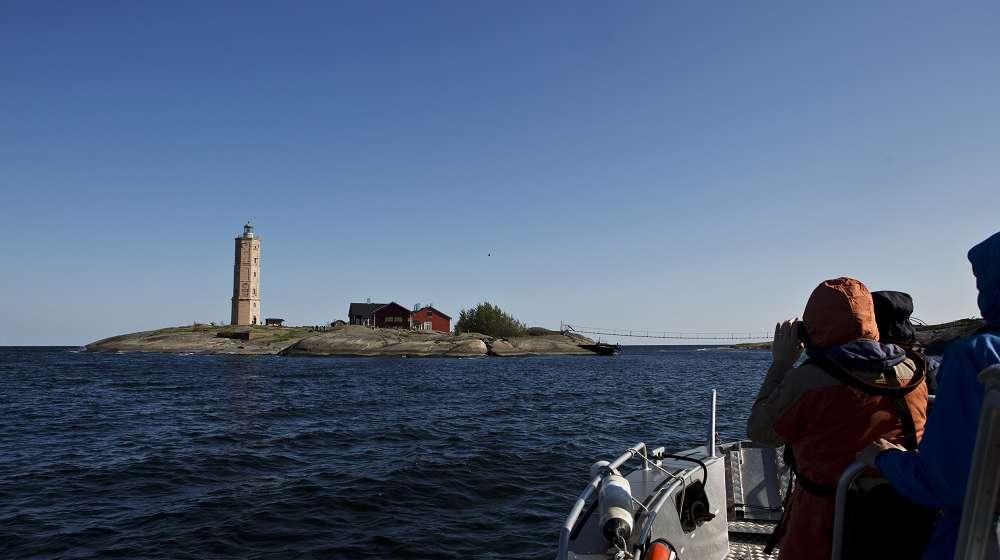 Climate neutrality
'Uber for boats' and other smart mobility services are tested in Jätkäsaari
Jätkäsaari in Helsinki Region is a testing ground for new mobility solutions and a showcase for smart transport to the rest of the world.
In the summer and autumn, Jätkäsaari is being used to test four new mobility services and solutions in a real urban environment and with real users.
Bout – 'Uber for boats'
Bout makes it easier to access Helsinki's archipelago and coastal locations by connecting those who need boat rides to residents who offer them. Bout's service is 'Uber for boats', i.e. it allows small boat rides to be ordered flexibly and affordably via a smartphone application. The rides are offered by owners of small boats. The boat owners operate as small-scale entrepreneurs, with Bout providing the platform for ordering and offering rides. The service allows tourists and residents to order boat rides to over 50 pre-defined pickup locations in the archipelago and coast of Helsinki and Espoo. Bout's service will be launched on 8 September 2018 first in IoS devices. Initially, boat rides can only be ordered and offered on the weekends.
Smart parking for shared-use cars
DriveNow and Easypark are making shared-use DriveNow city cars available to the tourists, residents and visitors of Jätkäsaari with the help of smart parking. DriveNow shared-use cars can be parked in two car parks in Jätkäsaari harbour, which are shown in the DriveNow application. Parking a car in these two so-called premium parking car parks is subject to a 2 euro fee (a so-called drop-off fee), which is charged to the customer automatically. Booking a shared-use car in Jätkäsaari is free of charge. The service improves the opportunities for parking city cars in Jätkäsaari, thus making it easier for people to come to the harbour and Jätkäsaari without their own car. Furthermore, the service creates a new mode of transport from the harbour to Helsinki-Vantaa Airport. The service will be made available to DriveNow customers at the turn of August and September.
Bicycle tours with audio navigation
The electric bicycle tours with audio navigation produced by Vapaus Bikes and Route Pepper add a new dimension to Helsinki's tourist season. The service creates memorable routes in different languages to classic tourist destinations (the Sibelius Monument, the Market Square, Töölönlahti and its surroundings), bohemian city districts (Kallio, Sörnäinen) and for island-hopping in Seurasaari. Customers can simply rent one of the high-quality electric bicycles and enjoy the audio navigation, which eliminates the need to know the route in advance and allows you to keep your focus on the traffic. The starting point of the audio navigation tours in Jätkäsaari is Clarion Hotel Helsinki, where hotel customers are provided with the bicycles and other equipment necessary for the tours. The service has been in use since 17 July, with new routes to be added during the autumn.
Travel from Jätkäsaari to Hietalahti and the Market Square via water bus
Norsö Line offers water transportation on the route Jätkäsaari–Hietalahti–Market Square. In Jätkäsaari, the water bus stop is located in Saukonpaasi, in the vicinity of the terminal stops of tram lines 8 and 9. The water route opens up a completely new mode of transport to the tourists and residents of Jätkäsaari. The service was succesfully tested free of charge in connection with the Kaupunkielämää Jätkäsaaressa ('Urban living in Jätkäsaari') event organised by Asuntomessut on 1–9 September 2018.
Trials help us learn more about new services and technologies
Urban mobility is in the midst of a major transformation. Digitalisation, new mobility services and technologies as well as changes in legislation are changing the ways in which people move about in cities. At the same time, people's values, attitudes and behaviour are also changing. The City of Helsinki is not just an onlooker, but an active participant in this transformation.
Helsinki's Jätkäsaari is a testing ground for new mobility solutions and a showcase for smart transport to the rest of the world. The Jätkäsaari Smart Mobility Lab coordinated by Forum Virium Helsinki brings together residents, companies and universities to develop new mobility technologies and solutions. As a result, Jätkäsaari has come to be characterised by the agile piloting and co-creation of new solutions.
The goal of agile pilots is to increase companies' and the City's understanding of new mobility solutions, their benefits and possible challenges.
"Jätkäsaari is a seaside city district being built right next to the inner city, and is also home to the busiest passenger harbour in Europe. It is an excellent place for testing new mobility services that offer concrete solutions to real transport challenges and development needs," says Project Manager Janne Rinne from Forum Virium Helsinki.
The agile pilots conducted in the summer and autumn are part of the Last Mile project, which seeks new mobility services for Helsinki, Espoo and Vantaa. The aim is to conduct agile pilots to find new and innovative mobility solutions that make it easier for tourists to get around or improve the accessibility of locations interesting to visitors. The pilots in Jätkäsaari are coordinated by the City of Helsinki's innovation unit Forum Virium Helsinki, which is a pioneer in smart city development and a key partner in the Smart Kalasatama project and many other digital service development projects.
The Last Mile project is funded by the European Regional Development Fund as part of the Six City Strategy (6Aika). The Structural Funds are directed to projects, which implement the Smart Specialisation Strategy for the region. The innovation strategies of cities are mostly based on smart specialisation priorities, complementing the regional RIS3. Finland's Structural Funds Programme for Sustainable Growth and Jobs 2014-2020 is based on smart specialisation. It contains different financing instruments as tools for implementation, such as The Six City Strategy. The funding is granted by the Helsinki-Uusimaa Regional Council. The project will run from 2017 to 2019.
Image credit Aleksi Poutanen / Helsinki Marketing
The Last Mile project
Funded by the European Regional Development Fund
Part of the Six City Strategy (6Aika)
Project time 2017-2019
For further information, please contact;
Janne Rinne,
+358 40 682 0050
janne.rinne@forumvirium.fi
Return to listing
The Last Mile project
Funded by the European Regional Development Fund
Part of the Six City Strategy (6Aika)
Project time 2017-2019
For further information, please contact;
Janne Rinne,
+358 40 682 0050
janne.rinne@forumvirium.fi