Cases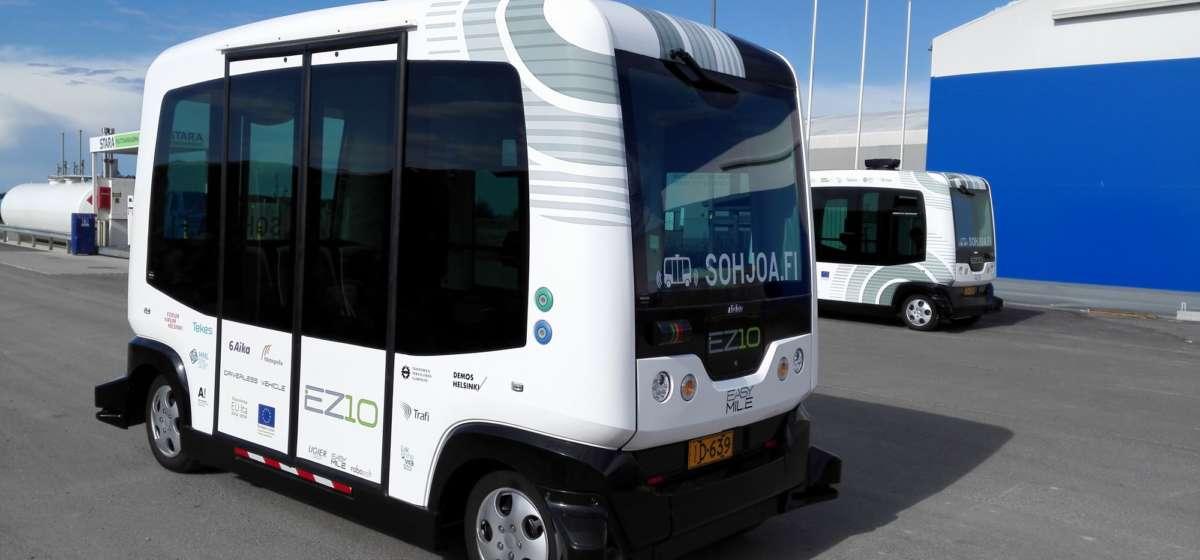 Industrial modernisation
Hop on the driverless SOHJOA robobus
SOHJOA is the driverless minibus which is transforming transport in Helsinki Smart Region. The electric driverless minibuses have been tested on public roads and passengers since autumn 2016 in Helsinki, Espoo and Tampere.
They are cost – and energy-efficient vehicles transporting up to nine persons and they operate alongside normal traffic and commuters.
If it works in these harsh conditions, it probably works everywhere
Finland is a pioneer in developing smart mobility services from smart apps to electric cars and driverless buses. The long distances and harsh winter climate require a particular know-how in the field of transport services. If a service functions well here, it is likely to function well elsewhere too.
It helps a lot too, that unlike most of the rest of the world, the Finnish law does not require vehicles on public roads to have a driver inside the vehicle. This peculiar detail has given Finland a substantial competitive advantage in developing and testing driverless robobuses compared to other markets.
"The robobuses offer a more flexible alternative to public transport when, for example, going home from the train station. The idea is to make public transport a more interesting option to taking the private car", explains Harri Santamala, the SOHJOA Project Manager from Helsinki Metropolia University of Applied Sciences.
The robobus can run up to 40 km per hour but travels at an average speed of 11 km per hour. Its slow pace is a matter of security and also a challenge for other motor vehicles in traffic. Also, other commuters and vehicles on public roads are not predictable. However, the pilot phase of the project is aiming at looking at the challenges and solving them with practical approach that can be applied on Finnish roads and elsewhere.
Finland in the fast lane of automated road transportation
Helsinki is three years into its 10-year plan to make car ownership unnecessary through "mobility on demand" systems, but operating such demand-based systems has proven difficult. Often the number of passenger is too low to make new services cost-efficient. Even though the public transportation has not yet seen a major breakthrough in new types of services, there's a lot to expect from the years to come. Mobility as a service concept (MaaS) is creating a whole new approach to urban mobility and the role of automated buses will possibly – if not replace – at least complement the existing urban transport services.
"The robobuses have a combination of Lidars and GPS which allows them to locate itself and drive the preferred route", Harri Santamala continues. "The buses can also operate on routes where traditional buses have difficulties to operate or in regions where passenger flows are very small".
The SOHJOA -project is not only aimed at creating new types of automated transport services, but also to increase understanding of the changes transportation is going through. In the next years, the automatization of transport is likely to transform the way people and cities operate. The possibilities, the problems and the risks should be well understood and addressed and answered collectively by the whole community of citizens, authorities, businesses and academia.
In addition to piloting, SOHJOA will create an open innovation platform that companies can utilize to develop new product and service ideas. The potential new operational models, products and services will either support all-round operability of automated systems or take advantage of it. The SOHJOA -project continues its operations with a revisions from the previous piloting phase.
Want to take a ride with SOHJOA?
In order to increase the awareness of the transformation in mobility, SOHJOA encourages companies, municipalities and users to get in contact and actively participate in the project. They also organise test- and workshop series where companies, cities and other operators have possibility to develop new service and product ideas that autonomous transportation enables.
SOHJOA-6Cities is part of the Finnish cities' collaborative 6Aika -project family funded by the European Structural Fund. Other partners include Aalto University, Forum Virium Helsinki, Finnish Geographical Institute and the Tampere University of Technology.
See also: A Slow Ride Towards the Future – New York Times article about SOHJOA
Sohjoa-project ended 31st of May 2018.
For further information, please contact:
Oscar Nissin
Project Manager
+358 40 674 8224
oscar.nissin@metropolia.fi
Return to listing
For further information, please contact:
Oscar Nissin
Project Manager
+358 40 674 8224
oscar.nissin@metropolia.fi